Apache Mobile Home Park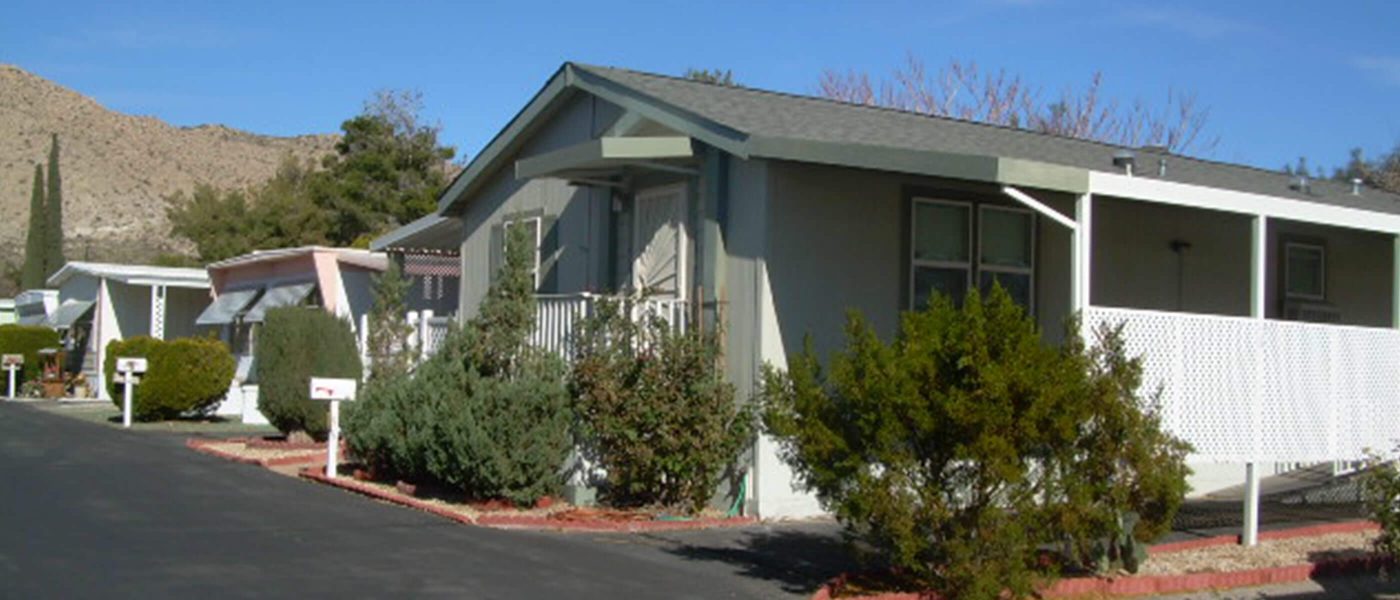 Grandbridge Facilitates Freddie Mac's First Resident-Owned Cooperative Manufactured Home Community Loan
Grandbridge Real Estate Capital recently closed a $3,600,000 permanent, fixed rate loan secured by Apache Mobile Home Park, a 136-site manufactured home community (MHC) in Yucca Valley, Calif. Located in San Bernardino County, the southern California community is about 20 miles north of Palm Springs.
Built in 1963, the 16-acre, age restricted (55+), manufactured home community is jointly owned by the residents, which is somewhat unique to the traditional land-lease community.
Birmingham, Ala.-based Senior Vice President Chris Dyson and Tampa, Fla.-based Senior Vice President Todd Elkins originated the transaction. The Dyson/Elkins team has a long and successful history of innovative MHC financing for their clients from California to the Carolinas. Funding for the refinance was provided through Freddie Mac's Standard Delivery Manufactured Housing Community loan product.
"Grandbridge is pleased to announce the recent refinance of Apache Manufactured Home Community, which is the first loan closed by Grandbridge/Freddie Mac with a resident-owned/cooperative borrower structure in place. We had a great team, from Tom Koos of Monarch Capital, to key Freddie Mac MHC professionals, and most importantly, the Apache Home Owners Board itself. It was immediately obvious and refreshing to see how much these residents love their community. We collectively enjoyed assisting them with their financing needs. Historically, loans for MHCs with this ownership profile were only attainable through banks and a select group of life insurance companies. We are excited about the future opportunities now available to finance resident-owned communities (especially in California and Florida) and appreciate Freddie Mac's dedication and creativity," stated Elkins.
"Monarch Capital Corporation has actively been arranging financing for cooperative manufactured housing communities for over 20 years. Addressing the financial needs of these affordable member-owned and member-managed communities will be well served by us now having Freddie Mac as a lender in this market niche," stated Monarch Capital Corporation President Tom Koos.
"Freddie Mac was pleased to partner with Grandbridge Real Estate Capital to provide our first financing of a MHC Cooperative. Providing liquidity to Resident-Owned Communities has been a goal of Freddie Mac Multifamily since we started our MHC program in 2014. Our long-term, fixed rate financing promotes stability to a segment of the market in need of support by preserving the existence and affordability of the community. The residents of Apache Mobile Home Park take great pride in their community and we were happy to meet their refinancing needs. We hope that that this is the first of many resident-owned communities we will support," stated Kelly Brady, Vice President of Underwriting and Credit for Freddie Mac Multifamily.
"Apache Mobile Home Park in Yucca Valley, Ca., is a member-owned co-op park. We had a 10-year loan that would soon need to be refinanced. Since the company we were with no longer services these type of loans, we made arrangements to meet with Tom Koos of Monarch. Monarch was amazing at guiding us through this process. Our loan is finalized and we couldn't be happier. Grandbridge and Freddie Mac, along with their respective counsel, have been wonderful to work with. They provided easy access for questions and documentation by email. Monarch, Grandbridge and Freddie Mac worked together to provide Apache Mobile Home Park the best financing and we are so pleased with the outcome," stated Apache Board of Directors President Lee Gardner.
About Grandbridge Real Estate Capital LLC
Headquartered in Charlotte, NC, Grandbridge Real Estate Capital, a subsidiary of Branch Banking and Trust Company (BB&T), arranges permanent commercial and multifamily real estate loans; services loan portfolios; and provides asset and portfolio management through its broad investor base that includes insurance companies, CMBS investors, pension fund advisors, commercial banks and capital markets investors, as well as its proprietary lending platform, BB&T Real Estate Funding. The company is a Freddie Mac Multifamily Approved Seller/Servicer for Conventional and Seniors Housing, a Fannie Mae DUS ® lender and an approved FHA MAP and LEAN healthcare lender.
With a current servicing portfolio of $29 billion, Grandbridge, an S&P "Strong" rated servicer, services loan portfolios and provides asset and portfolio management nationwide for all capital providers including Freddie Mac, Fannie Mae, Ginnie Mae, insurance companies, banks and more than 250 securitizations.
About BB&T
BB&T is one of the largest financial services holding companies in the US with $222.7 billion in assets and market capitalization of $39.1 billion as of June 30, 2018. Building on a long tradition of excellence in community banking, BB&T offers a wide range of financial services including retail and commercial banking, investments, insurance, wealth management, asset management, mortgage, corporate banking, capital markets and specialized lending. Based in Winston-Salem, NC, BB&T operates more than 1,900 financial centers in 15 states and Washington, DC, and is consistently recognized for outstanding client service by Greenwich Associates for small business and middle market banking. More information about BB&T and its full line of products and services is available at BBT.com.
Loans are subject to credit approval.
Grandbridge Real Estate Capital is a subsidiary of Branch Banking and Trust Company(opens in a new tab), Member FDIC. Both are Equal Housing Lenders.